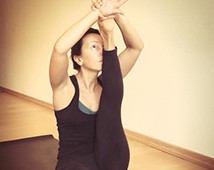 Cinzia Pedrielli, approaches all'Ashtanga Yoga in 2009.
Attend workshops with famous teachers, but it is only after meeting with Lino Miele, following in his retreats and seminars in Italy and India, that this passion for the practice becomes an integral part of life, as well as working and professional choice.
Since 2011 daily studies with Marcello Leoni since 2012 and is dedicated to the practice and teaching full time.
In 2016 he participates in the In-Depth Study of Ashtanga Yoga taught by Lino Miele and receives authorization to the teaching of the series.
---