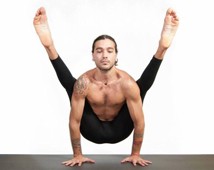 Ricardo Martinez is born in caracas venezuela, since very young i've been always atracted to yoga and the eastern cultures, but it was not until 2003, thanks to one of my best friends back home, when i satrted to explore the world within, i started the yoga practice. For the first 3 years i tried many different styles, teachers, studios, etc, not finding what i felt i was looking for…
It was in 2006 after receiving a video from a friend (lino miele's yoga Chikitsa full vinyasa) which changed my life, when i satarted, self taught (by the lack of teachers in my hometown) the ashtanga vinyasa yoga practice atracted by its power, strenght and mindblowing focus on the breath, keeping that path eversince.
In 2008 i decided to go to india to meet my teacher (lino miele) for the first time, after being trapped by the way he was breathing and moving in that video. i wanted to check if he was a real human being, and i found that he is one of the best human beings on the whole world.
From the first time i saw him, we talked, he touched me, i knew that i found my teacher. so i stayed with him eversince. travelling every year to india to stay with him for 2 months. also attending to workshops and reatreats in italy as well.
I've teaching ashtanga yoga in the traditional way since 2009 in venezuela, Colombia, hungary (my current home), spain and India. In June  2013, i recieve lino's blessing for teaching the ashtanga vinyasa yoga method, after completing his indepth study in ca le suore, Italy.  In the present my main approach to the method is the flow of energy, the breath itself, the power of the movement in combination with the breath (the vinyasa system) and the pranayama practice is the gate to reach the state of self consciousness of pure awareness.
In 2014 guided by Lino I finished advanced A series, and in 2015 he started guiding me through advanced B, which is still in progress
Besides, i'vealso had the priviledge to practice and learn from some of the best teachers around the world:
rolf naujokat (goa, india)
r. sharath jois (mysore, india)
saraswati rangaswami (mysore, india)
sri. v sheshadri (mysore, india)
dr. nagaraj (mysore, india. yoga sutras and philosophy)
sri lakshmi (mysore, india. mantra chanting, sanskrit)
louis ellis (rishikesh, india)